Limo Service Lafayette LA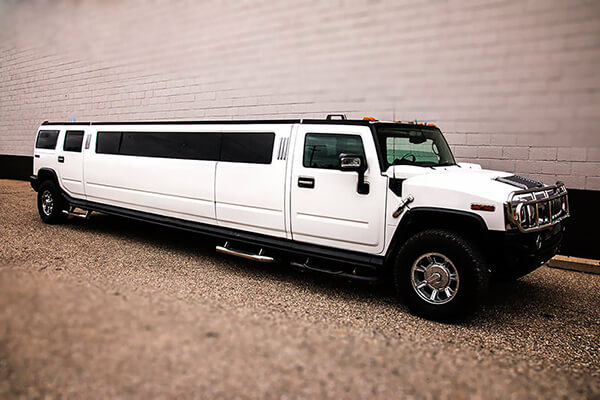 18 passenger Hummer limousine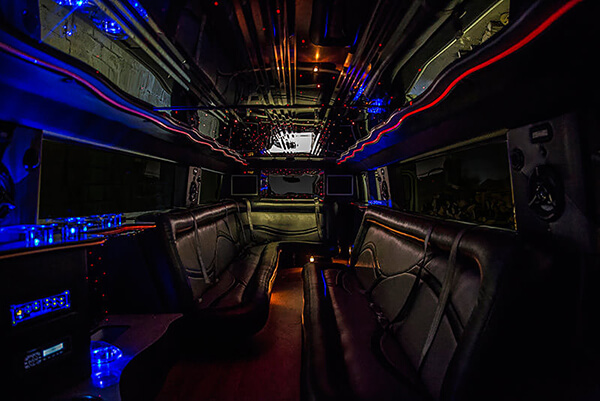 Leather interior and wood floors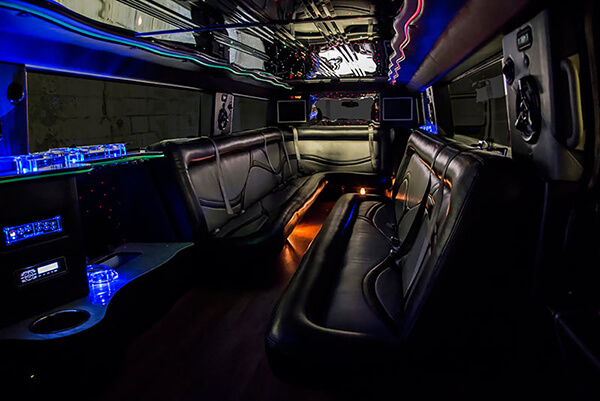 Mirrored ceiling, TV/DVD player
Travel across the greater city of Lafayette, Louisiana, with our quality limousine services and party bus rentals. Whether you are preparing an event, looking for a good plan, or taking a city tour, you can't miss the opportunity to visit Lafayettea place famous for its cuisine, traditional music, and world-class festivals. But when better than traveling comfortably and in style thanks to our luxury limousines and party buses? Our fleet has a wide range of cars of all sizes and models in order to help you find the perfect vehicle to accommodate your whole group and have unforgettable moments. We offer not only a means of transportation for your special occasions and events but also an experienced and skillful team willing to assist you with all you need before and during your big day. So, what are you waiting to reserve with our limousine service?
Lafayette limo service for all kinds of events and parties
The perfect option to transport your guests or celebrate with your friends is our Lafayette transportation services. We know the complexities of planning an event and organizing the details for your trip; that's why we offer you customized service. Both for a big celebration during your prom night with a large group and a small reunion for your birthday party, you have the ease to create and choose the details according to your transportation needs and expectations. Likewise, our reservation specialists and advisors are ready to help you and give the advice to make your special day even better. Get your wedding venue on board an elegant limousine or classic Rolls Royce with the ideal atmosphere for the happy couple to have a pleasurable trip. To discover more options for your events, check out this website and learn more about our limo service lafayette.
What better way to party with your friends and family during a special event in Lafayette, Louisiana? The preferred plan of the residents of this city is to rent a luxury limo or party bus since these types of vehicles are equipped with just what you need for an exciting party. Whether for bachelor or bachelorette parties, birthday parties, weddings, prom nights & school dances, anniversaries, bar hopping, or nights on the town, we have a large fleet with excellent options. Besides, we offer charter bus rentals, car services, and airport transportation for other kinds of events, such as corporate events, airport transfers, field trips, sightseeing, city tours, sporting events, conventions, and gatherings. If it's your first time organizing an event, call us; our team will help you.
A great variety of party buses, limos, and motor coaches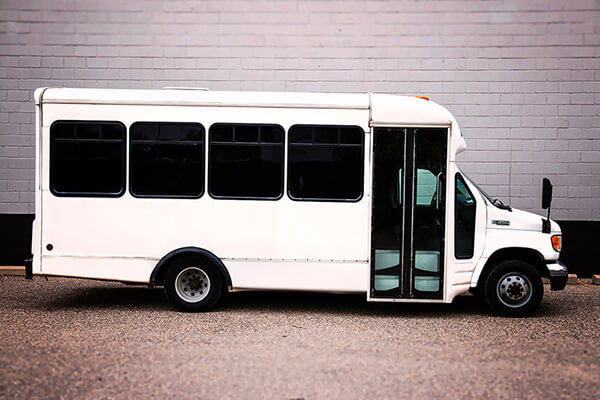 20 passenger party bus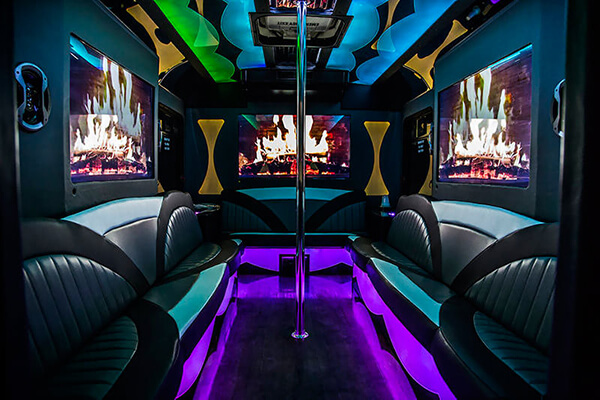 Leather seating and wood floors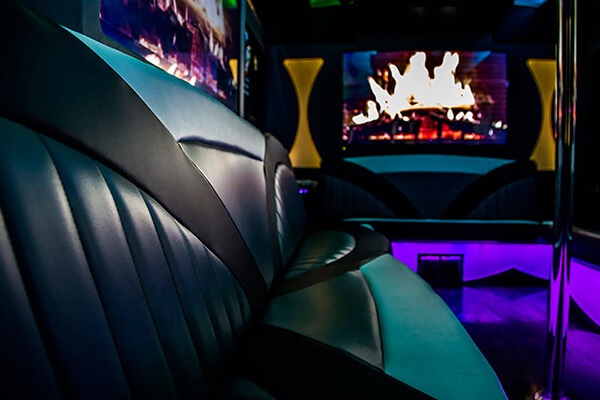 TV/DVD, CD/USB/aux
Find the right vehicle for your group easily in our extensive and stunning fleet in Lafayette, LA! From luxury limousines and party buses to a great variety of buses and town cars, we have transportation options for each occasion and different group sizes. Our vehicles for small groups have a capacity for 8-20 passengers, but if you have a large number of guests, we offer you our options for 22-40 passengers. Whether you need airport transfer service or charter bus rental, you will have at your disposal an extensive selection of vehicles of all models. However, the best of our cars are their amenities and features to provide you with a comfortable, relaxed, or fun trip (depending on your requirements). Take your next special event to another level with our limousine rental service Lafayette.
Whether for a party with your buddies, carrying your team to a sports event, or if you need airport car service, our vehicles are ready for you and your group to hop aboard! We assure you that the fun never stops on our party and limo buses and stretch limos with flat-screen televisions, DVD players, a top-tier audio system, USB/aux, hardwood flooring, dance poles, colorful lighting effects, plush leather seating, beverage bar, coolers, cupholders, tinted windows, and more. Also, if you are considering a town car to go to your work commitments and meetings, you will find Ford Excursion, Mercedes Benz, Cadillac Escalades, SUVs, Sedans, Sprinter vans, and other options from our town car fleet. Call and make your limo reservation with us and have a memorable experience with our limousine service in Lafayette, New Orleans, and the entire Louisiana area!
Why choose our limo service in Lafayette?
Over the years, we have worked to offer a quality transportation service that satisfies our clients around Lafayette, New Orleans, Baton Rouge, and Louisiana. But what makes us different from other limo companies? More than luxury vehicles, we make an effort to provide excellent customer service with a high-qualified team of chauffeurs, book specialists, and advisors to attend to your demands and requests. Forget to operate vehicles yourself on your special occasions; our experienced drivers take your stress and carry to anywhere in the city safely and on time. Keep entertaining and without concerns during your trip with our limo rental and chauffeur services.
Don't be scared about the expensive costs of renting a limo or party bus; here, you will get much more for less! With our limo service Lafayette, we guarantee you reliability, efficiency, great entertainment and luxury, and a friendly team to help you during your special event at the best limo prices. You won't have to worry about your budget since we offer the ease of creating your own event package according to your requirements. Come and know the best transportation service in Lafayette.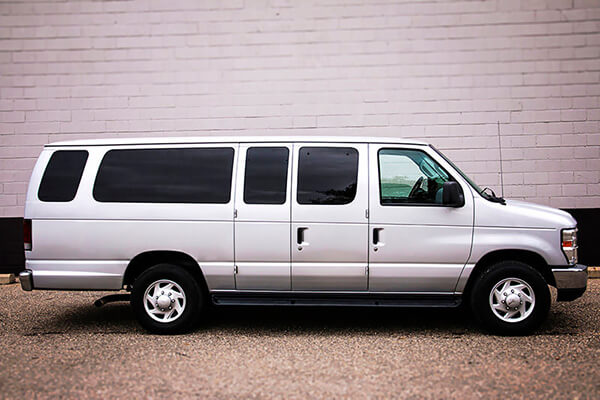 8 passenger party van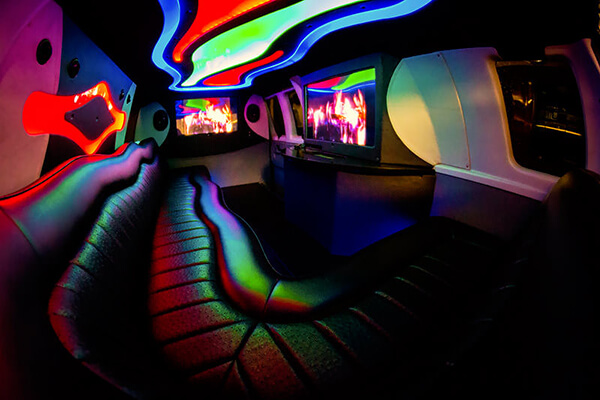 Custom limousine interior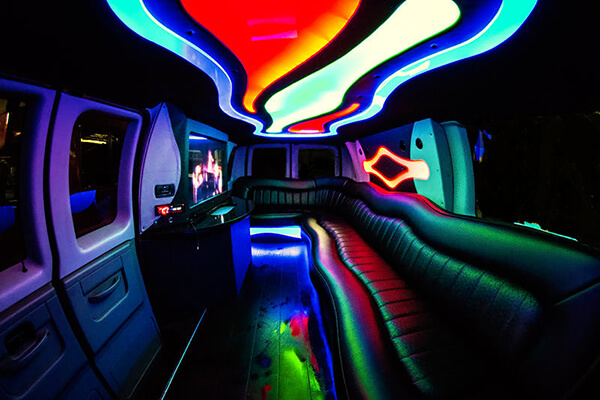 Color-changing lights, beverage bar